Remove Spyware, Virus or Malware using
Anti Spyware Software
Download the software to remove the Virus. Spyware or Malware automatically from the computer.
Follow the Steps to remove Virus, Spyware & Malware.
After downloading the software, the main interface of the software seems to be like this along with the options of Quick Scan, Full Scan and Custom Scan.Click on Start Scan button to start up the scanning process.
After complete system scanning, entire list of the threats detected is displayed.
Click on Clean option which will clean up the scanned threats.
Sometimes, you might face problems when downloading automatic removal tool. In such cases, you are advised to go through the following steps mentioned below:
At first, start the system in safe mode with networking. But before this, you must write down http://www.malware-protection.net/free-download on a paper so that when the system goes in safe mode, you can reopen it easily.
How to restart Windows system in safe mode?
First of all, you will find a dialog box prompting you to continue in safe mode so click on 'Yes'. This process may take few minutes so don't be impatient.
If you don't find the option then restart the system and keep pressing F8 key during the process.After the system gets in safe mode with networking, if the threat is trying to block the desktop then first you must let it to perform fake system scan and then close its screen. After this, the system starts running in safe mode.
For more additional info regarding this, you can click here to go to Microsoft official site for help.
Once malware enters into the system, it performs system settings in a way by making use of certain proxy server due to which you are not allowed to have access to few legitimate websites and several kind of error messages are generated. So, just follow out the following steps that can help you to further download the utilities for malware removal.
Just open Internet Explorer. Go to Tools->Internet Options.
Then go to Connections tab.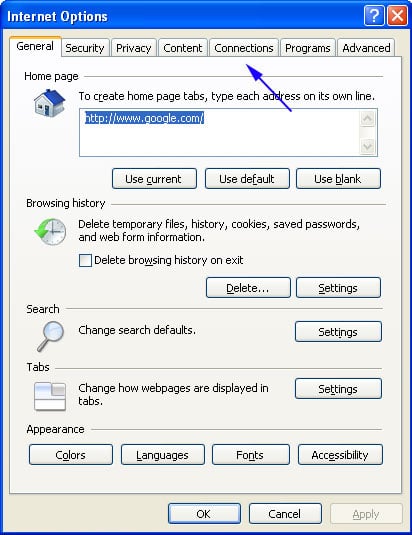 Then click on LAN settings highlighted.
Now you need to uncheck the option available as ""Use a proxy server for your LAN" and click on OK.
After successful completion of aforementioned steps, you are free to access any kind of sites as the proxy server is disabled. To experience changes, you need to restart Windows and then go to download these following tools that will help you to comprehensively scan the system to detect and thereby remove all the serious malware threats.
It must be noted that whenever you go to download removal tool, you will notice a warning message is displayed stating that this file download could harm your system. But do not pay attention to it as it is commonly shown by web browser just as a formality.
Click to download and run FixNCR Tool: Downloading this tool will work to disable the existing malware infections by inserting some values in Windows Registry Editor. The only thing you have to do is to click 'Yes' to the registry warning messages appearing while the installation process is going on. You don't have to pay for this tool, as it is a free application.
Click to download Speedy PC Pro: Malwares are designed in a way to change the registry settings in its own way and so leads to slow and sluggish PC performance. But after you download and run this tool on your system, it will restore the registry settings and will also fix up the slow PC performance issues and thereby improving system's speed. 
Download Automatic Removal Tool: Now, you must download automatic removal tool to get rid of serious malwares and its related infections. Using this tool, will help you to make your PC safe from harmful malware components and so is considered as the complete solution for malware removal. It must be noted that you must use the automatic update feature of the software in order to prevent your PC from further serious infections.
Remove Virus, Spyware or Malware using
Anti Virus Software
Download the software to remove the Virus. Spyware or Malware automatically from the computer.